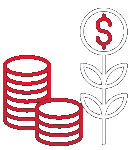 Shares
Common and Preferred
Davivienda has issued two types of shares: common and preferred. Common shares grant political and economic Rights as provided by law. Preferred shares do not grant voting Rights; however, they do grant the same economic Rights as ordinary shares.
See Detail
Ordinary shares enjoy all the political and economic rights established by Law.
To receive prorated dividends, along with ordinary shareholders, of distributable profits.
Preferential reimbursement of their contributions, after settling all external liabilities, in the event of Davivienda's dissolution or liquidation.
To subscribe for shares on a preferential basis in the event of new issuances of Preferred Shares, under the bylaws, excluding shares issued under the Issuance and Placement Program.
To all other Rights granted to Ordinary Shares in accordance with the bylaws, except (i) the right to subscribe for Ordinary Shares or other types of shares other than Preferred Shares on a preferential basis, subject to the limits set forth in the previous paragraph and (ii) the right to attend and vote at the Annual General Meeting.
Notwithstanding other provisions, Offered Preferred Shares grant their holders the right to vote under the following circumstances:
When voting on modifications with the potential to worsen the terms or Rights established for Preferred Shares offered. Under such circumstances, a favorable vote of seventy percent (70%) of the shares comprising the subscribed capital is required. This percentage includes, in equal proportions, the favorable vote of the Preferred Shares offered.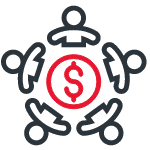 Annual General Meeting
The Annual General Meeting is the Bank's highest governing body, and it is composed of the shareholders registered in the Shareholders Register in accordance with the Bylaws and legal provisions.
Here you can find all the documentation regarding our Annual General Meeting.
See Detail
Shareholder Register
The Bank keeps a Shareholders Register, which contains its shareholders information. The Bank only recognizes as shareholders those who appear in this Register, under the terms and conditions specified therein.
Here you can find all the documentation regarding our Annual General Meeting.

Shareholder rights and obligations guide
Banco Davivienda top 20 shareholders